Frédéric Portner is the brand new 2019 Hobie Fishing European Champion!!! After two days of tough fishing the French angler managed to catch 1 pike measuring 66 centimeters which was enough to leave the others behind him. Besides an amazing prize package Frédéric is also qualified for the Hobie Fishing Worlds next year!
"I'm so happy winning this tournament. It could be anyone really, but I guess I was the lucky one. I'm still proud that I did not ever give up and just kept on fishing!"
Runner up is: Valentin Danailov from Bulgaria with a zander of 62 centimeters.
Miguel Garrido (ES) completes the top 3 with his zander caught on day 2 of 56 cm.
4. Antonio Fereirra (PT) – 55 cm
5. Petar Hristov Yanec (BG) – 53 cm
6. Velin Kerimov (BG) – 45 cm
Unfortunately those where the only guys qualifying for the ranking. Place 7- 10 prizes where given out via a raffle.
7. Christelle Portner
8. Raphael Manac'h
9. André Jones
10. Nikola Dimitrov Kuzmov
A big thanks to all our sponsors for providing a superb prize table! Lowrance, Rapala, Sufix, Hobie Polarized, High 5 Lures, Westin, Gerber, Power-Pole, Daiwa and Rebelcell. Without them, there would not be a Hobie Fishing European Championship.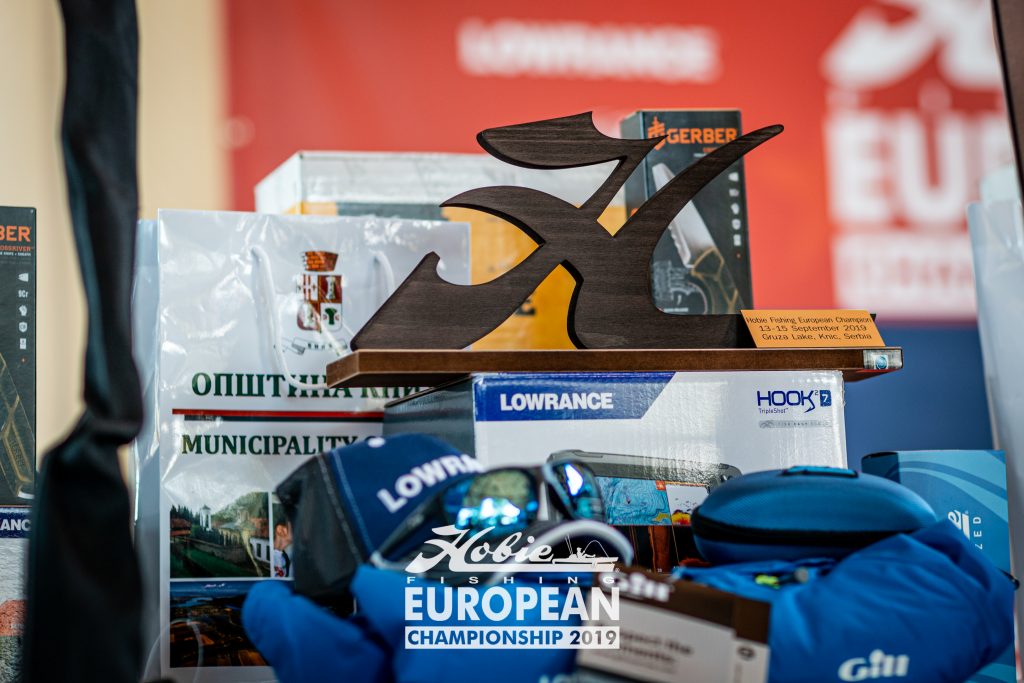 This particular event would not have been possible without the help of our organizational partner Sailing & Fishing Infinity Club. Their complete team worked from 4:00 to 23:00 each event day making sure everybody can enjoy the event to the fullest! Thank you all! A special thanks to Dragan, Marija, Gorana and Sascha for all the work you have put into the event to make it happen! It has been amazing and even better than we imagined it would be!
After all prizes where handed out, there was another announcement. In order to do this, Gero Priebe he invited Federico Botarelli onto the stage. "We are super excited and extremely proud that we can announce the location of the 2020 Hobie Fishing European Championship today. Next years event will be held in…… Lake Bolsena, Italy!  Together with our organizing partner Federico Botarelli form Bolsena Yachting we'll  be working hard the coming year to set up an amazing event!" Gero tells everyone. Federico takes over and shares some info about the lake. "Lake Bolsena is a vulcanic lake just located two hours above Rome which is rich in waterlife. Primary species in the lake are pike, perch, black bass and carp. But there are many many more. We are really happy that the event will come to Bolsena. It makes us proud to be able to organize this prestigious event. We hope to see you next year!" More info on next year's event will be announced soon!
Rapala competition day 2:
Another day at Lake Gruza, with one big question.. Will the anglers crack the code today? Yesterday only one fish has been measured. A 66 cm pike for French angler Frédéric Portner put him atop of all other anglers. "I was just lucky hooking into the pike I guess" he tells us. "It could've been caught by anyone. Fortunately for me, it decided to take my lure."
At the morning start, everybody was positive that today was going to be better. It can't get worse for almost everyone. A local Serbian singing group sang the national anthem at 6:30 this morning after which a sprint towards the Power-Pole starting line occurred. They passed the buoys and went of to start Rapala competiton day 2 of the Hobie Fishing European Championship 2019!
The general game plan of most anglers. Try and get a zander in the early morning fishing the shallows and move to the deeper water later in the day. "I'm going to cast, cast and then some more casting" František Zderka told us on the water. Christian Schulte started of casting the shallows near the bridge this morning. "After I fished this spot, I'll change over to vertical fishing to tempt the zander."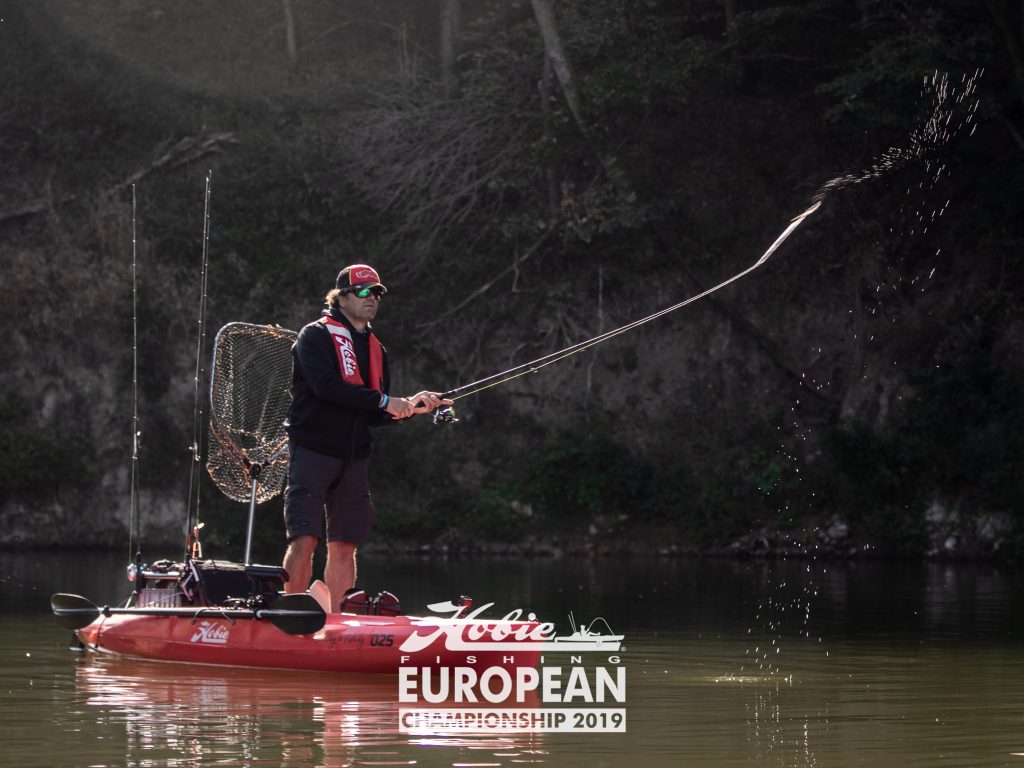 Two hours into the fishing day the first catch report comes in. A zander caught by Miguel Garrido (ES). The camera boat is close and is there to witness the release and directly the relief of Miguel. "This is absolutely perfect! I was just casting and slowly, really slowly, retrieving my shad at the drop of. Whoooo! Yes!!" Portugese angler Antonio Fereirra comes pedaling up to the boat. "I also caught a zander here earlier today. A good sized one." Asked about his tactics "I will continue to fish like I did and hope to hook a second one." The rest of the day passes quietly. The suns out and around noon a slight breeze comes over Lake Gruza. Some anglers are starting to come back at around 14:15. With just 45 minutes to go they decided it wasn't getting any better and head back to enjoy some lunch. By 15:00 everybody was back and those who caught fish were filling out the scorecards and then went on to freshen up for the prize giving ceremony.
For a full gallery of today click here