Salah El Barbouchi (DE) is the new Hobie Fishing European Champion! The former World Champion (2018) is the only angler that managed to fill his card both days and that earned him the title with a whopping 777CM. With winning this event he qualified himself for the Hobie Fishing Worlds 10 (Location and dates TBA). Matthias Fischer (DE) finished 2nd place with 649CM. He managed to find his zander and pike both days, but did not connect to any perch. Matthias did win the Big Fish award with a monstrous 121CM pike. Ronald Traas (NL) completes the top 3 with 599CM.
"I'm so happy to have won. I had my plans worked out, but it remains fishing. Luckily everything fell in place. I heard a lot of guys where catching big zander pelagic. It's not my favorite, but I decided to give it a go and it worked out perfectly. Again, I'm just so excited." says the brand new Hobie Fishing European Champion.
Recap of the day:
After the kayak explosion in the morning, anglers were likeminded. They collectively target the Haringvliet zander and are doing that quite successful. Submissions come rolling in and the live leaderboard changed by the minute. Today's fishing times are 7:00AM to 2:00PM.
The guys to follow are Salah El Barbouchi (DE), Matthias Fischer (DE) and Ronald Traas (NL). All three of them experienced anglers with quite some knowledge of the water.
Going into day two, Salah El Barbouchi (DE) has his plan set and professionally executes it. Trying to find the zander as early as possible. By 9:00AM Salah had his card full and even upgraded one, before making the move to get his pike and move on to finish the day getting perch.
Matthias Fischer (DE) is trailing Salah by 37CM at the start today. After the horn blew he exactly knew where he needed to be and started adding CM to his bag. After two zander, he hit the jackpot. An absolute tank smashed his lure and challenged Matthias to a tug of war which he won. A 121CM monster found its way onto his measuring board. Like it was meant to be, the media boat was following him.
"My heart was pounding when it struck. I was fishing Pelagic and it just crushed my lure. After a 15 minute drill I finally got it in my net. I managed to get it on the measuring board with my hand shaking to take the photo for scoring. Man! That was nervewrecking!" according to a still excited Matthias.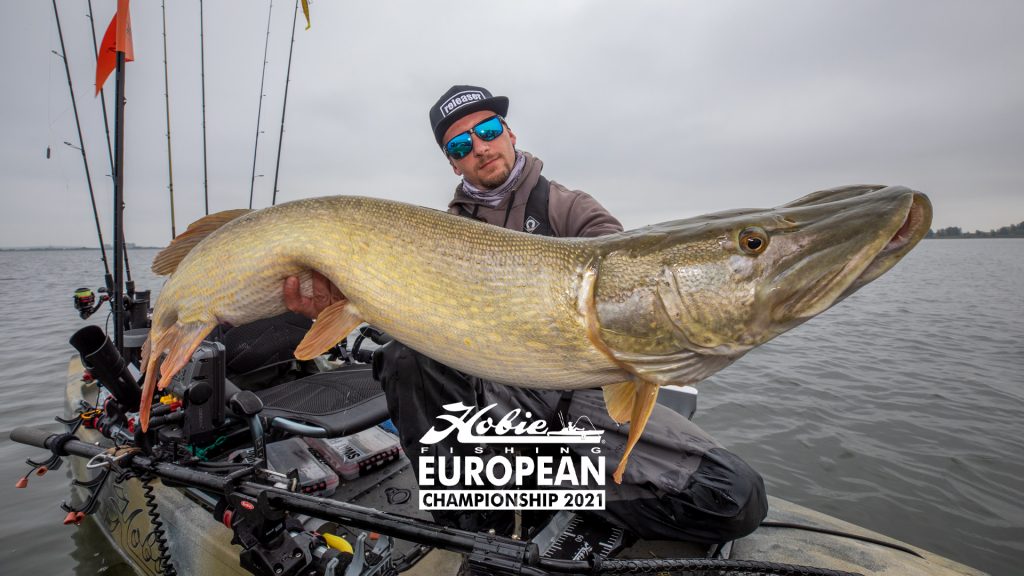 Ronald stuck to the same plan as Saturday, heading towards Den Bommel trying to fill his card quickly with zander and move on to perch and pike. He did not manage a full card. One zander and perch short of a full card he pedaled with all he had left after a day of fishing to make it back to check in in time.
"I was really hoping to at least stay in the game this time. It happened too much that I started strong and couldn't finish. I worked really hard, pedalled a lot. It seems that I'm always paddeling against the wind when I have to get back. It just an awesome feeling to be on stage!"
When the participants returned to Jachthaven Atlantica and took their kayaks out of the water, they had the opportunity to get freshly baked Pizza in the wait for the award ceremony which stated at 4:00PM. The stage is set and full of prizes for the Top 10 and big fish.
A big thanks to Jachthaven Atlantica, KayakCentre, and their team for opening up their marina and helping out with everything we needed.
Another big shoutout to our sponsors. We can't say it enough. Thank you!
Here is the top 10 in order of appearance on stage. Check out the full standings here:
Big fish – Matthias Fischer (DE) – 121CM pike

10th place – Leo Pegels (DE) total 408CM
9th place – Sebastian Brysch (DE) total 423CM
8th place – Edi Brader (AT) total 426CM
7th place – Martin Breuer (DE) total 439CM
6th place – Olivier Schäfer (DE) total 458CM
5th place – Christopher Kipka (FR) total 471CM
4th place – David Skowronek (DE) total 580CM
3rd place – Ronald Traas (NL) total 599CM
2nd place – Matthias Fischer (DE) total 649CM
1st place – Salah El Barbouchi (DE) total 777CM